Memes are always present in online experience, especially shared on social media platforms. The popularity of this phenomenon has grown so much. Memes are interesting by its nature and part of online culture. While most of the time, the aim of memes is to be sarcastic and funny, they can be used for business. Memes attract our attention and people can take advantage of it as long as they do it in a clever and smart way.
What is meme actually?
Memes are humorous videos, images or pieces of text that is often copied online and spread with fast speed by users of internet. So how can you create effective meme for your company or business? The crucial thing is to find the perfect image that will fit together with your service or product you are offering.
You can find all kinds of memes just surfing through the internet. Some of the webpages even shows which meme is most popular for long time already as well as the ones that are trending currently. The meme that you pick and image that goes with it have to be connected to the brand of your company. The meme you choose needs to be funny, witty or clever so that it goes viral online. In order to make your meme go viral, it has to be easy to consume, to create, familiar to people, shareable and relatable to audience you're targeting. What do you want to evoke in the people, is it humor or sense of pride? What is the main theme of your memes? What are the feelings when people see your memes and how it's associated with your company? When you are creating meme, make sure that you understand it first because you sure don't want your meme to be though of as negative or even copied from someone else. What's more, focus on not creating meme with grammatical errors.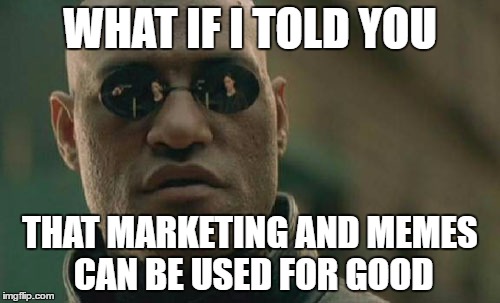 When you find out the perfect picture for your meme and create clever or funny saying to it, it's time for social media sharing. Use every platform you can to distribute it and publish it from time to time to make sure it's seen by most of your audience. There's a number of online pages that will allow you to create meme for free, but for allowing you this, they will add own watermark at the meme's bottom part. If you have skills with Photoshop you can make your own memes, or maybe someone in your team is capable of doing that too. Check out sites like www.memesly.com or www.memegenerator.net as those pages will allow you to add text and then download memes for free.
Don't be scared of copyrights as memes all around the world are not copy written, so don't worry about downloading picture and adding your own twist to it. If you use memes as part of marketing strategy for your company, it will definitely increase your chance of grabbing the attention of audience as well as helping you with branding. Marketing with memes can also be exciting and fun project for you and your team. Just plan it so you can get most out of it and increase its chances to go viral.